If you've visited our site over the past couple of weeks, you may have noticed a bit of work going on outside our shop. Well, the secret is out… We're extending our Wine Loft with a tasting balcony!
Our Wine Loft, built in late 2015 as an extension to our shop, is home to our range of award-winning English wines, in addition to over 90+ artisan British gins. Two years ago we began offering Wine Tasting Experiences, where guests can enjoy 6 half-glasses of our award-winning wines, along with tasting notes, crackers, cheeses, and a self-guided trail of the vineyard. Needless to say, the tasting experiences were an instant success, and later that year we introduced Gin Tasting Experiences, where guests enjoy four G&Ts, selected from specially curated menus, with garnishes and tasting notes.
Two years later, and we can't stop tasting wine and gin… The solution? Taste more!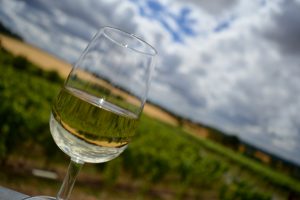 This brand new balcony extension will increase the Wine Loft's flooring area by almost 50%, meaning a big increase in our capacity for wine and gin tastings, where guests will be able to enjoy panoramic views over the vines and the rolling hills of the South Staffordshire countryside. The area will be surrounded by glass paneling, and will feature brand new seating and tables – perfect for enjoying your favourite tipple in the sun!
We have more exciting plans for our Wine Loft over the next few months, but they will remain secret… for now!
For all the latest news from Halfpenny Green, stay tuned to our blog, and be sure to visit our Facebook, Twitter and Instagram pages.